Itongadol/AJN.- An old synagogue of La Boca neighborhood in the city of Buenos Aires was recovered by the Jewish community after 20 years of being illegally occupied.
The building is on Magallanes Street 1265 and it witnessed the arrival of the first Jewish immigrants from Europe, who originally settled in the neighborhoods of La Boca and Barracas.
«The recovery was thanks to the combined work of the City´s Public Prosecutor's Office and the entity Jabad Lubavitch Argentina, which was the denouncer,» said the Undersecretary of Justice, Hernán Najenson. He also extended his gratitude «to the work of Judge Ricardo Baldomar for his efficient and dynamic task».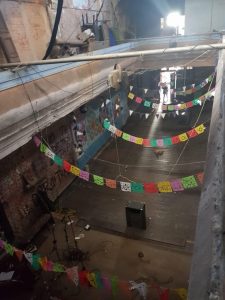 A so-called cultural center, known as «La Casa de las Estrellas» (The House of the Stars), used to operate on this property, alluding to the existing decoration with the Stars of David. For an extended period of time, parties were held there and it received constant complaints from the neighbors about disturbing noises and disorder.
«This is the result of a three-month period of work with which we achieved the restitution of this space for the Jewish community,» said Juan Pablo Arenaza, Undersecretary for Public Relations with Security.
The authorities were able to enter the temple and they discovered it had been dismantled and desecrated. On its walls anti-Jewish slogans and graffiti with Nazi symbolism were found. All this was documented with photographs that were added to the case.
With all this evidence, the Buenos Aires prosecutor Tomás Vacarezza was able to get Ricardo Baldomar, Criminal, Contraventional and Misdemeanor judge of Buenos Aires, to order the eviction of the usurpers and the restitution of the property to the legal owners.
The Ministry of Justice and Security of the City, represented by the Undersecretariat of Justice and the Undersecretariat of Citizen Liaison with the Security and Police of the City, provided support during this important operation to recover this historic heritage of the city of Buenos Aires.