Itongadol.- DAIA´s president, Jorge Knoblovits, warned days before the 25th anniversary of the AMIA attack that «the combination of impunity and lack of memory is lethal in Argentina» and stressed that no progress has been made in condemning the brutal terrorist attack because it lacks, at least, «the tools and adequate legislation».
«Since 2012 we have been internationalizing the AMIA case. That's going to international forums, like the United Nations. As a result of these actions, we are succeeding in having Hezbollah defined as a terrorist organization in the coming days,» Knoblovits said in an interview with Agencia AJN.
However, the head of the of Argentina´s Jewish community political arm wondered: «What will happen when a country like Argentina declares that the Islamic Republic of Iran is a terrorist country? Because relations with Iran have never been broken».
The following are the most important sections of the interview with DAIA´s president.
-AJN: We are just a few days away from a new anniversary of the AMIA-DAIA attack, how does this date find you?
-J.K.: It finds us in the scenery of impunity. The 25th anniversary of impunity in relation to the bombing of the building cannot be analyzed if we do not see what happened two years ago. Twenty-seven years ago, on March 17, 1992, there was another attack in the Argentine Republic, with many deaths, and it is also unpunished. Therefore, the mixture of impunity and lack of memory is lethal in Argentina. So you find me a little sad, but with a lot of strength because we have a series of new tools. Since 2012 we are internationalizing the AMIA cause. That is resorting to international forums, such as the United Nations . As a result of these actions, we are succeeding in having Hezbollah defined as a terrorist organization in the coming days. Hezbollah is Iran, it is the branch that makes attacks outside the Middle East. Iran is accused, its officials are accused. Hezbollah and Iran are exactly the same. So this date finds us disappointed by injustice and impunity, but renewed, because we are not going to stop looking for the proper tools for this to be resolved.
-AJN: Why is an attack as AMIA´s so important abroad?
-J.K: This is not forgotten. Because the saga of terrorism began in Argentina in 1992 and 1994 and was the beginning of global terrorism. Other countries have succeeded with justice and with those responsible. Not us. It hasn't been properly investigated or we haven't had the right framework. But what happened in Argentina was the beginning of massive attacks. Twin Towers, Charlie Hebdo, Atocha, London.
-AJN: The AMIA attack is the only one that points to Iran.
-J.K: That's why the Memorandum was nefarious, because it was the interference of politics in the judicial case. In this scenario, it is certain that there are officials from the Islamic Republic of Iran who have red flags because they are charged. It has not been possible to move forward because we do not have the tools, the legislation. Only today are we determining that Hezbollah is a terrorist organization. What will happen when a country like Argentina declares that the Islamic Republic of Iran is a terrorist country? Because relations with Iran have never been broken. Sometimes I pass through the embassy door and it is still open, it has movement. It's very unfair.
-AJN: During the recent visit of Senator Miguel Ángel Pichetto, you had a very frank talk about his support to the Memorandum.
-J.K: I like to work on the truth. And even with the truth to have dissent. We can't stand the agenda of hypocrisy. DAIA is here to leave a mark. We want to leave the mark of coherence. We are guided by coherence and goodwill. We must manifest all dissent. We have dissent with those who come to visit us, from different political movements, we even have dissent with the member organizations of the DAIA. And we have 30 wills within DAIA that do not think the same thing and I often lose the 'votes'. Sometimes my proposals are not accepted and are surpassed by others much more intelligent. What the president of an organization like DAIA has to do is to lead the dissent and thought of the different.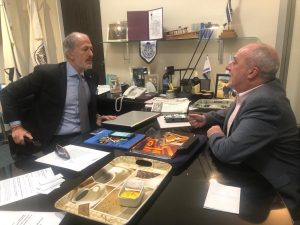 -AJN: The Government stated that during its administration progress has been made in the AMIA cause. Do you agree?
-J.K.: No. It doesn't matter if a government says it made progress. Justice has to say it. The last thing that was done in the AMIA case was done by Alberto Nisman. The government did not do it, neither this nor the previous one. Let us highlight the figure of Alberto Nisman. All Governments are at the disposal of the legal tools. But justice should have been the one who advanced. Let us not confuse the governmental agenda or the electoral agenda with the judicial agenda. That's what happened with the Memorandum.
-AJN: What are your thoughts on Nisman, who worked to make Iran´s terrorism known?
-J.K: Alberto Nisman is in the best of places for DAIA, in the place of the one who put his effort and knowledge into it, put his life into it.
-AJN: There has been talk about the trial in absentia to resolve the AMIA case, Pichetto even said during the visit to DAIA.
-J.K: Senator Pichetto explained it, we say that they are tools of the State, not even of the Government, they transcend governments, this and any other has to be promoted by those who administer justice, neither by DAIA, nor by AMIA.
-AJN: How do you rate this 25th anniversary of the AMIA attack in your first year in office?
-J.K: It puts me in the right place along with the victim´s relatives.
-AJN: Looking to the future, what would be DAIA´s mission in the AMIA cause?
-J.K: I imagine myself chasing those responsible with the right tools. The goal is that those who are known to be guilty be convicted. What I'm not clear about, and I'm going to be absolutely honest, is that I don't know what the tools are so that those who are guilty can be imprisoned in prisons in Argentina. But what we are doing is seeing that we can find tools together in Argentine society because it is neither DAIA, nor AMIA, nor even family members. We all have to find an adequate solution to this fear that means the absence of justice.
-AJN: Do you have any opinion regarding presidential candidate Alberto Fernández's latest statements on the Memorandum?
-J.K: We have to look at this national political world with objectivity and each one of them with subjectivity is going to have the right speech to win the elections. I told Senator Pichetto that we had a huge dissent with his position on the Memorandum and we told him publicly because otherwise it doesn't make any sense to say it. This has to be heard by him and by everyone. The same will apply to Fernández, (José Luis) Espert, (Roberto) Lavagna or any candidate for first senator or head of government or governor of the province of Buenos Aires. We have an agenda. We are going to try to hold our agenda whoever wins and also whoever loses because the two parties govern.
-AJN: How do you describe the relationship with the AMIA?
-J.K: I get along very well with the president because the institutions are very clear about what our concerns are. The DAIA is the one that covers and protects all of them. I have a very good personal relationship with the AMIA´s president and it is not minor. We meet because we take care of ourselves, he takes care of my space and we take care of his.
-AJN: Is there any concern in DAIA at this time?
-J.K: We have decided in the last few weeks that we do not live only from worries. What we do from DAIA is pure political construction of the best and the healthiest. We have constructions, we don't have any worries.