Itongadol.- On Friday, Saturday and Sunday the First Session of the Conference for the Fight Against Anti-Semitism was held in Santiago de Chile, with leaders from all over Latin America.
The opening session was in charge of Roberto Muñoz, of the Chilean Jewish community, who thanked the presence of 150 leaders from all over Latin America.
The vice-president of the World Zionist Organization (WSO), Yaakov Hagoel, also spoke and said that the only solution to the anti-semitism and hatred felt in Europe by the end of the 19th century for Jews was the existence of a Jewish state. He then remembered that the first Zionist Congress invited the people to follow the WSO.
«Anti-semitism is not a problem of Europe, nor is it Jewish, it belongs to everyone, and the idea that it was not going to exist after the Shoah is something that was not fulfilled. Ten years ago it was reborn and with a lot of force, with very dangerous attacks in different countries. Jewish leaders must understand that anti-semites want Jews to be afraid of being Jewish. If a Jew is afraid of being a Jew, in the end he won't be a Jew», said the WSO vice-president.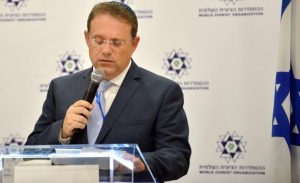 He also added: «The responsibility for maintaining Jewish pride and fighting anti-semitism rests with the entire Jewish people, especially the leadership, and the entire people of Israel. Antisemitism is not only killing physically, that is not the danger. It kills the Jewish spirit and that is what should be avoided with tools brought from this Congress».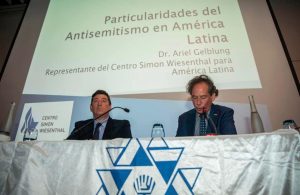 The WSO representative for Latin America, Shraga Wilk, considered that anti-semitism is something promiscuous that can be carried out by both the extreme right and the extreme left. «It is not a political struggle, it is ideological», he said.
Ariel Gelblum, regional representative of the Simon Wiesenthal Center, referred to the situation that is occurring with anti-Semitism and what the Center is doing to confront it.
Marina Rosenberg, Israel's new ambassador to Chile, who assumed her diplomatic position as an Israeli official a few weeks ago, said, that together with the community, she is working hard on the issue of anti-Semitism and BDS. Her first personal experience last night when she received antisemitic tweets in response to a purely Chilean issue.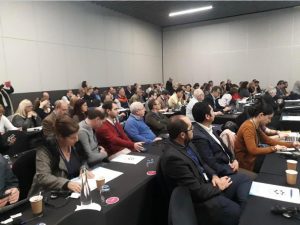 In turn, when he raised the existence of anti-semitism with Chilean officials and politicians, they replied, surprised, that anti-semitism does not exist. So he believes that we should talk, discuss and teach a lot about the subject, both in the Jewish community and outside it, because we have to unmask what is happening and fight against anti-Semitic hatred.